Community Investment in Timor-Leste
We recognise that what can be achieved through collaboration is far greater than what we can achieve on our own. We are proud of our role in forging relationships that are not limited to our performance as an oil and gas producer, and will ensure that ConocoPhillips and the Bayu-Undan joint venture make a lasting contribution in Timor-Leste.
As operator of the Bayu-Undan joint venture, ConocoPhillips makes significant contributions to sustainable community programs.
ConocoPhillips' community investment program in Australia and Timor-Leste focuses on education, health, environment and community and arts programs. Our community investments through the Bayu-Undan joint venture have a specific focus on education, health and safety and capacity building programs in Timor-Leste.
Bayu-Undan joint venture supported programs include:

Vocational Training - Electrical and Instrumentation
Fulbright-SERN Scholarship Program
Alola Foundation - Maternal and Child Health Program
Agricultural Projects
St John of God Outreach - Nursing Development Program
Santalum NGO - Reforestation Program
Education, Health, Community and Arts - Timor-Leste
Jesuits
View the Timor-Leste Community Investment and Capacity Building Newsletter here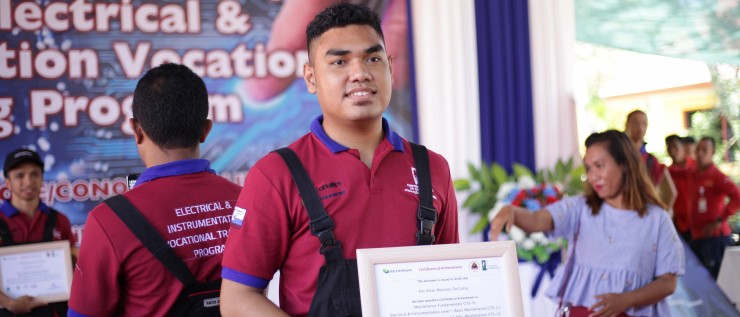 Vocational Training - Electrical and Instrumentation
A group of 18 trainees were the first to graduate from a new vocational training program, gaining a Level II Certificate in Electrical and Instrumentation Maintenance, one of the only courses of its kind offered locally in Timor-Leste.